Most of the things I do are an experiment which means that they fail now and then. I don't claim to know everything or guarantee that everything I post on here will work out perfectly! I just share what I'm doing, whether it works or fails.
So, when we came back from Colorado, my new roman shades looked like this:
I had said in my post that all the other tutorials recommend using fabric glue, but I decided to use hot glue because I figured it would hold up better. Well, I guess I was wrong!! I just hot glued it right back in place and it's still holding together as of right now, but if this happens again…I guess I will be getting some fabric glue. So, use hot glue at your own risk!
My other diy failure is still in the works.
We took the doors off my closet so that we could put a dresser right next to it without the folding out doors getting in the way. I put the too long old curtains for now.
I bought these curtains at Walmart a few years ago for only $7 each and they are actually pretty nice, but the color has always been a little odd. You can't tell from the picture, but they are a shimmery beigy color.
I had the brilliant idea that I would dye them a medium gray to blend with the walls!
I bought one thing of Rit dye in pearl gray. First mistake was to only get one. I should have read the directions on the box that one box is for 3 yards of fabric and 2 massive curtains is a lot more than 3 yards!
I also threw in a white bath mat.
After following the directions perfectly, the bath mat came out great. But, as you can see…the curtains are pretty much the same color as they were before.
I will mention my other mistake. Somehow I cut off the tags of my curtains so I have no idea what the fabric content is. Rit dye only works on certain fabrics, so I was just guessing that my curtains would soak up the dye.
After doing a little research, I was inspired by Sherry's (from
YHL
)
dyed wedding dress
. She used black Rit dye and it came out a really pretty gray color.
Before: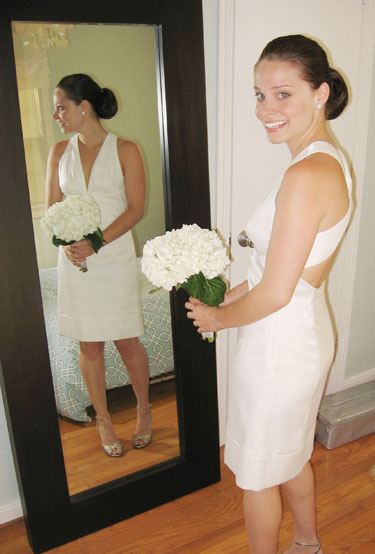 After: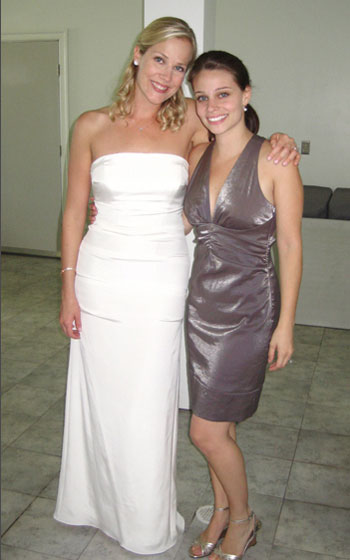 Pretty sweet and very gutsy!
So, I went back to the store and bought 2 things of black dye.
mixed it up…
Threw it in….
The end result?
The top swatch is a piece I cut from the pre-dyed curtains. As you can see it's barely changed. In fact, the only thing that is different is now they look a bit lavender.
NOT what I was going for.
However, I did throw in a few black tops that were beginning to fade
And now they look much better, so it wasn't a total waste.
I consider the curtains ruined, so I'm trying one last experiment this weekend before I throw them away. I will keep you updated on the results!